New Jersey Symphony Presents Lunar New Year Celebration
---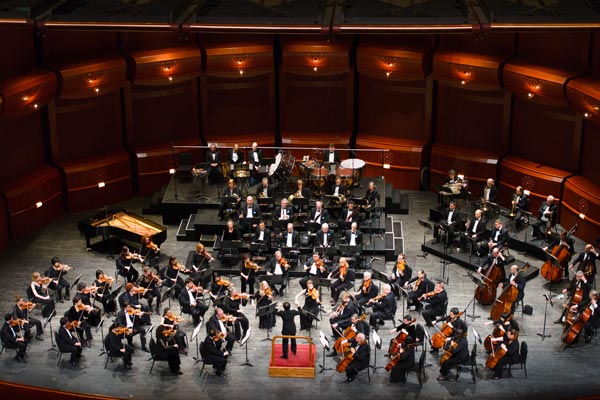 NEWS | FEATURES | PREVIEWS | EVENTS
originally published: 01/25/2022
(NEWARK, NJ) — The New Jersey Symphony presents its Lunar New Year Celebration Concert on January 29 at the New Jersey Performing Arts Center in Newark. Music director Xian Zhang and assistant conductor Tong Chen are conducting the concert, which will be recorded live for video broadcast. SinoVision and the Symphony will preview the concert airing on February 5.
The show takes place on January 29 at 7:30 p.m. at the New Jersey Performing Arts Center in Newark. Tickets are available online at njsymphony.org or by phone at 1.800.ALLEGRO (255.3476).
The Edison Chinese School Lion Dance Team opens the concert with a special performance. Symphony's festive program kicks off with Li Huanzhi's Spring Festival Opening and offers traditional favorites Dance of the Yao people"Jasmine Flower" and "Red Dragonfly" alongside Chopin's Andante Spianato and Grande Polonaise Brillante; Mozart's Hallelujah Exult, jubilate; "Long Ago" by Copland old american songs; Strauss Jr. Thunder and Lightning Polka and Hans Christian Lumbye Champagne Galop.
The orchestra welcomes pianist and soprano Chelsea Guo on stage and shares virtual performances from the Peking University Alumni Chorus and the Starry Arts Group Children's Chorus.
The concert will be previewed on SinoVision and the New Jersey Symphony YouTube channel on February 5 at 7:00 p.m. It will remain available on demand for free on njsymphony.org and on YouTube.
Advertise with New Jersey Stage for $50-$100 per month, click here for more info
---
The Symphony Orchestra is also presenting a virtual festival, with new special guest performances premiering daily from January 24-28 and remaining available on demand. Videos featured include Guo performing "Jasmine Flower"; violist Hsin-Yun Huang, pianist Lucas Armory and dancer Shu-Chen Cuff perform "Molto vivo" by Ernest Bloch Suite for viola and piano; pianist Min Kwon performing selections from her America/Beautiful commissioning project; the Starry Arts Group Children's Chorus performing Zhang Wen-Gang "Our Land" and violinist Jisun Kim performing Pablo de Sarasate Carmen Fantasy with Kwon. New Jersey Symphony Deputy Principal Cello Nayoung Baek hosts a special interview with Kim and Kwon.
All New Jersey Symphony performances are following safety measures in partnership with the venue and based on guidance provided by the CDC and the State of New Jersey.
More information is available at njsymphony.org/LNY.
The New Jersey Symphony Orchestra will redefine what it means to be a relevant and leading orchestra in the 21st century. Through adventurous performances, hands-on educational experiences, and strong community programming, we encourage everyone to enjoy the power and creativity of orchestral music in all its forms. Across genres and locations, for audiences from all walks of life, we strive to bring music that makes sense to you, to you.
As we look forward to celebrating our centennial, we renew our deep-rooted commitment to diversity, equity and inclusion by championing new, often local, artists; engage audiences for whom the inspiring depth and breadth of classical music will be new; and incorporating the broadest possible representation into all aspects of our organization, all to better reflect and serve our vibrant communities.
Our extensive educational offerings, including our youth orchestras, masterclasses and virtual learning opportunities, will train the next generation of listeners and musicians and help students grow, both musically and personally. And we will continue to seek new ways to connect with all New Jerseyans, through programs that resonate with a variety of cultural and musical backgrounds, as well as digital innovations that make our orchestra accessible to everyone, no matter where, anytime.
New Jersey Symphony programs are made possible in part by the New Jersey State Council on the Arts, as well as numerous other foundations, corporations, and individual donors.
PHOTO BY FRED STUCKER