New Year's Bowl Games: Best Moments, Highlights, Scores
---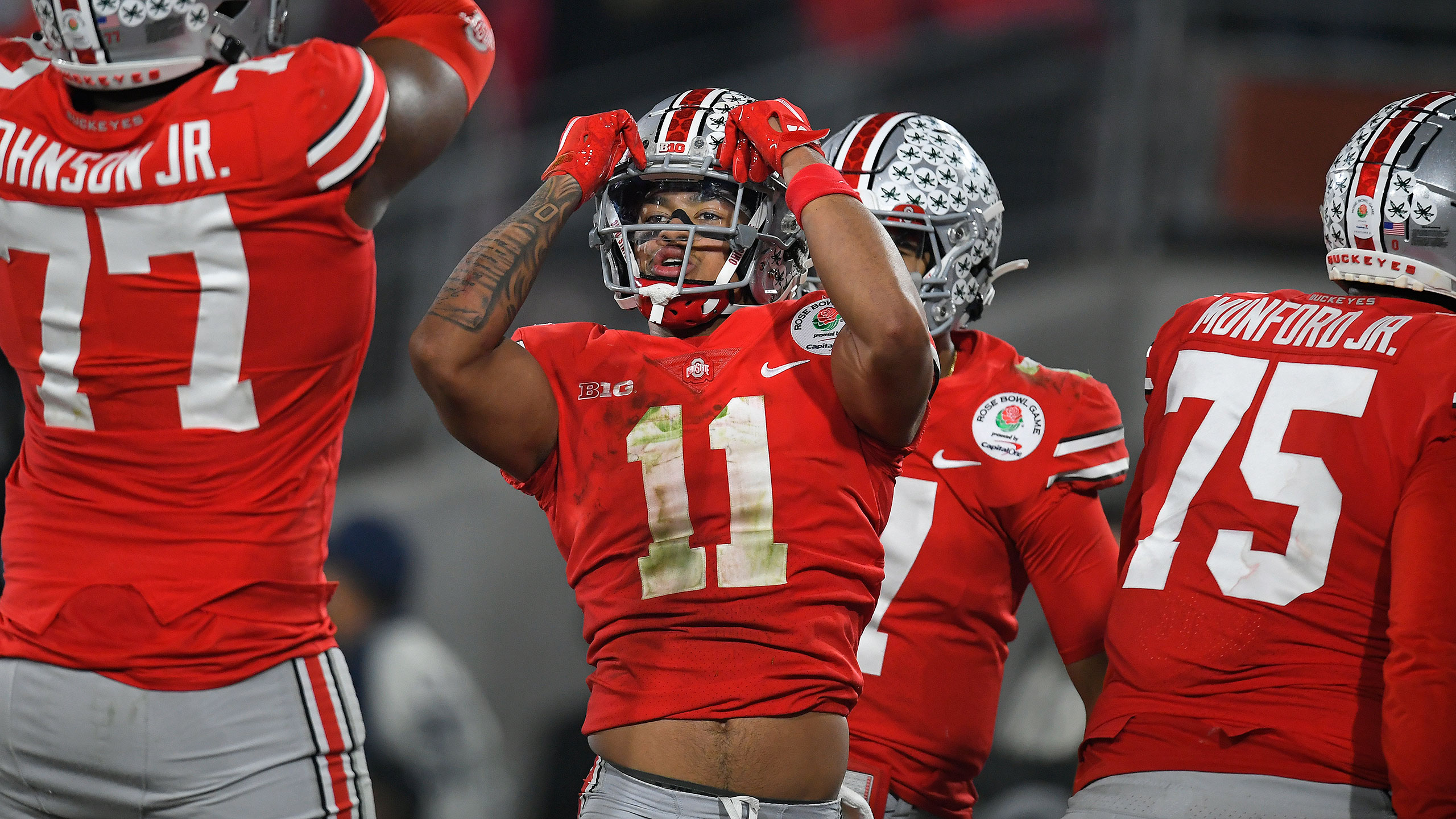 It's New Year's Day, and you know what that means…a full slate of college football games!
Play started at noon ET, but check back for updates on each game as the day progresses.
Outback Bowl: No. 21 Arkansas 24, Penn State 10
KJ Jefferson picked up 104 of his 110 rushing yards in the second half and threw 90 more to lead Arkansas past Penn State (7–6). Arkansas (9–4), after four straight seasons of four or fewer wins, earned its first nine-win year since going 11–2 in 2011. The Razorbacks also played their first bowl game since the 2016 Belk Bowl .
Arkansas' secret weapon… John Daly, and pizza?
Regardless of the outcome, the Outback Bowl might be the best gift that keeps on giving:
Meanwhile, things got a little rocky for Penn State late in the first half:
Fiesta Bowl: No. 9 Oklahoma State 37, No. 5 Notre Dame 35
Oklahoma State rallied from a 28-7 deficit to beat Notre Dame, the biggest comeback in program history. The Fighting Irish have now lost 11 consecutive bowl games (NY6, coalition, BCS and CFP) and have been winless in the New Year's Six Bowl since 1994.
Marcus Freeman was making his Irish coaching debut after taking over from Brian Kelly, who left for LSU before the college football playoff field was even announced.
Earlier in the week, the Oklahoma State Marching Band also paid a small tribute to Notre Dame after the Irish band was unable to make the trip to Arizona:
Fiesta Bowl Predictions? This Phoenix Zoo rock star chose the Irish:
Citrus Bowl: No. 22 Kentucky 20, No. 15 Iowa 17
Iowa QB Spencer Petras threw three interceptions as Iowa fell to Kentucky on Saturday, the last of which sealed a narrow United Kingdom win. Wildcats receiver Wan'Dale Robinson had a big day, catching 10 passes from quarterback Will Levis for 170 yards.
Rose Bowl: No. 6 Ohio State 48, No. 11 Utah 45
The Buckeyes edged out the Utes in a thrilling Rose Bowl, winning the game on Noah Ruggles' 19-yard field goal in the dying seconds. Both teams played an explosive first half in Pasadena, combining for 56 points as Utah built a 35-21 halftime lead.
But the day belonged to Ohio State wide receiver Jaxon Smith-Njigba, who hauled a monster 347 receiving yards that set the FBS bowl game record. Smith-Njigba did it on 15 catches, including three touchdowns. Quarterback CJ Stroud broke the Rose Bowl passing record with 573 yards and six touchdowns.
Utah's Britain Covey provided fireworks in the first half when he fended off a kickoff 97 yards from home. The electric main returner and receiver started his college career in 2015 and has now wrapped it up on New Years Day 2022. Covey also caught a touchdown that day.
The Buckeyes were missing a significant number of scholarship players. Athleticismby Bill Landis reported that 24 players will not appear in the game due to a combination of injuries throughout the season, transfers since the end of the regular season, recent injuries and retirements.
Utah starting QB Cameron Rising left the game after a scary play in the fourth quarter and never returned. Rising recorded 306 total yards in the loss.
Sugar bowl: No. 7 Baylor 21, No. 8 Ole Miss 7
The game started off rough, as Ole Miss quarterback Matt Corral went on a bag in the first quarter and had to be helped off the field. Corral was then transported to the locker room to receive x-rays. One of the NFL's top prospects, Corral previously explained why he decided to play in the sugar bowl.
With Corral out, the Rebels offense largely spat, despite some flashes shown by first-year QB Luke Altmyer. Baylor's teeming defense limited Mississippi to one score, with Al Walcott's 96-yard six-yard pick in the second quarter standing out as the highlight of the game.
The Bears, in Dave Aranda's second season, finished 12–2 with a Big 12 championship to boot, while Ole Miss fell to 10–3.
The last word
It returns to the legendary Betty White, as it should:
More college football coverage:
• Michigan's dream season ends with a whimper
• Bennett, UGA make statements in Michigan Drubbing
• Nick Saban's Juggernaut strikes again in CFP