Recipes for an intimate New Year's Eve celebration from Chef Kathy Gunst
---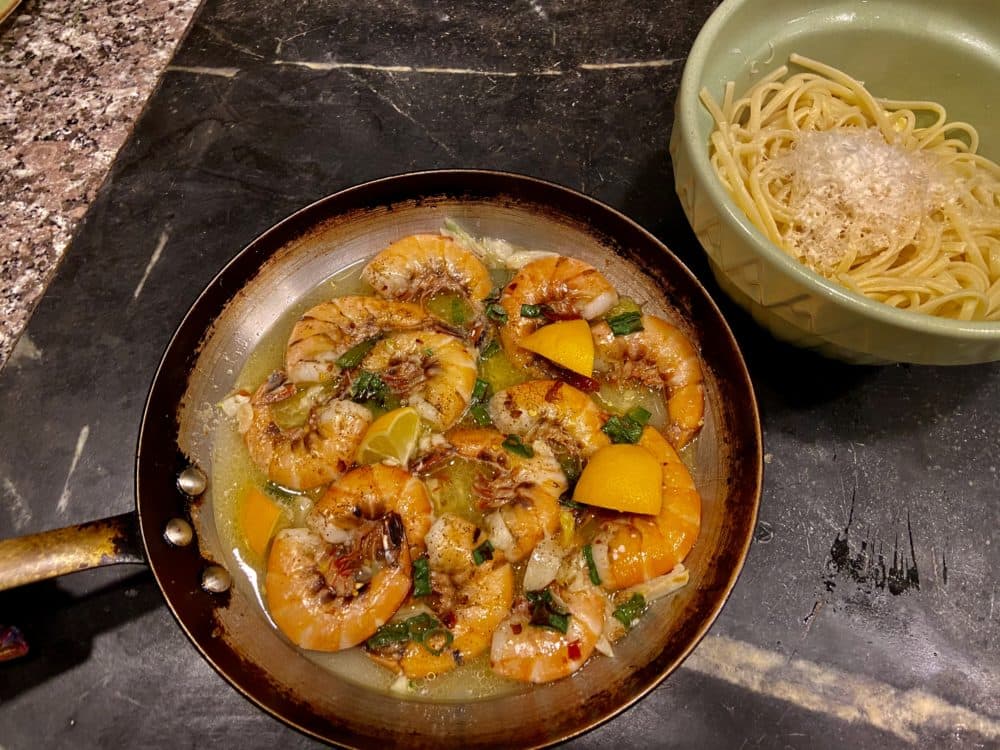 I often feel sentimental at the end of the year, thinking back to good times with family and friends, exceptional meals, trips and discoveries. But I won't shed a tear to see 2020 fade away. Bring 2021.
How to say goodbye to one of the worst years of memory? Is celebration even an appropriate response?
I say we need to celebrate now more than ever. As we close a year that has brought so many hardships to so many around the world, we must find the light and look to the future. And creating a memorable meal is one of the best ways I know of to celebrate.
It won't be the year of a party. This will be the year you and that special someone, or a few members of your immediate family or quarantine group, get together, stay safe, and share delicious food.
For some, New Years holidays mean buying extravagant and extravagant foods and drinks like caviar and champagne. But, looking at New Year's cooking traditions around the world, you find simpler foods with deep meaning. They vary from state to state, region to region and country to country.
For example, in the southern United States, black-eyed peas and leafy greens are eaten to bring good luck in the New Year. In many cultures, fish, especially whole fish, is eaten because it symbolizes abundance. Scandinavians prefer to eat pickled herring, a symbol of fertility and long life. Noodles, especially in Asian culture, are also said to bring long life, while rice is a symbol of fertility and wealth. Lentils, with their coin shape, are said to bring prosperity and often appear as part of Italian New Year celebrations.
Tamales, wrapped in corn husks, are a Mexican tradition celebrating the family. And eating 12 grapes at the stroke of midnight is a Spanish tradition, it is said that every grape brings good luck for the year to come.
Whatever your tradition, make your meal on the last night of this very difficult year something to remember. But remember, delicious doesn't necessarily mean extravagance or overindulgence in food and drink. In a way, it doesn't look good this year.
Open a bottle of sparkling wine (add a handful of fresh pomegranate seeds which symbolize fertility, beauty, and everlasting life) for a festive, crunchy color. Turn on the music and start cooking.
This year, I'm going to make a simple prawn scampi with lots of garlic, a wonderful salad made with bitter and crunchy chicory, fruit and nuts, and a winter leek gratin. And for dessert: the simplest chocolate mousse (made up of 4 ingredients) topped with a vanilla-flavored whipped cream.
May 2021 be a new beginning for everyone. To a happy and healthy New Year!
A salad for a new year
Vibrant color, crunchy textures and bittersweet flavors. This is the profile of this festive salad. You will need to look for a few ingredients that you may not have. Even if you can only find one or two, it will be worth it. The base of the salad comes from a variety of chicory – endive, radicchio, escarole and frisée, a green endive with curly hair.
Chicory leaves are hardy, slightly bitter in late fall and early winter, and make an excellent salad. Look for beautiful radicchio (brown and white spots or stripes) at your local farmers market or grocery store. Use one, two or more varieties.
The salad is topped with pomegranate seeds and persimmons, an orange-colored fruit that is more salty than sweet. Look for the Fuyu variety of persimmon, orange with a round base. You can always substitute the apple or pear slices.
The salad is then topped with nuts and a light lemon vinaigrette. And the salad and dressing can be put together a few hours before serving, then tossed at the last minute.
For 2 to 3.
Ingredients
For the salad
3 cups mixed chicory (radicchio leaves, escarole leaves, endive sprouts and / or curly – use one or a combination of all, cut or torn into small pieces)
1 Fuyu persimmon, peeled and cut into thin slices, (you can replace a pear or an apple)
1/2 cup pomegranate seeds
1/4 cup almonds, Marcona almonds, pistachios or walnuts, left whole or coarsely chopped
For the lemon vinaigrette
1 1/2 tablespoons lemon or Meyer lemon juice
1 tbsp pomegranate juice (from the above pomegranate if using) or orange juice, optional
2 1/2 to 3 tablespoons olive oil
Salt and freshly ground black pepper
Instructions
Arrange the chicory on a salad plate or bowl.
Wrap the persimmon or pear slices around the greens. Sprinkle with pomegranate seeds and nuts.
Prepare the dressing: In a small bowl or jar, combine all the ingredients and taste for seasoning. Add more oil, salt and pepper if necessary.
Salad and dressing can be made several hours in advance.
Scampi shrimps
There are many versions of this classic seafood dish, but lots of butter and garlic are essential. The garlic is minced and also sliced ​​and sautéed in copious amounts of butter. Shrimp are tossed in garlic butter with dry white wine, green onions, parsley, lemon juice and a pinch of red pepper flakes, then baked in a hot oven and finished under the grill.
I like to cook the shrimp in the shell because it keeps the shellfish moist and there is less chance of overcooking. If you can find peeled and deveined shrimp, this is ideal. (And a bonus: once you've peeled the shrimp, you can save the shells to make a simple shrimp broth.)
This dish takes less than 30 minutes to prepare and is excellent served with pasta (stirred with some of the juice from the pan) or as a starter with warm, crisp bread to soak the juice in the shrimp pan.
For 2 people as a main course and 4 as a starter.
Ingredients
3 tablespoons of butter
2 garlic cloves, chopped
1 to 2 garlic cloves, very finely minced (depending on the garlic you like)
1 pound of medium shrimp, deveined, preferably with the shell still on *
2/3 cup dry white wine
Pinch of salt and freshly ground pepper
1/8 teaspoon crushed red pepper
2 tablespoons finely chopped green onions, white and green parts
1 tablespoon of lemon juice
3 tablespoons finely chopped fresh parsley, optional
1 lemon, cut into wedges
* Ask your fishmonger to devein the shrimp for you while keeping the shell. If you want to do it yourself, using a small, sharp knife or kitchen scissors, slit along the back of the shrimp shells. Using the tip of your knife, toothpick, or small skewer, remove the thin black vein. Leave the remaining shell intact.
Instructions
Preheat the oven to 450 degrees.
In a heavy ovenproof skillet large enough for the shrimp to spread out in a single layer without overlapping, cook the butter and minced and sliced ​​garlic over medium heat and cook, stirring, for 3 minutes. Remove from fire. Add the shrimp in a single layer, garnish with the wine, salt, pepper, chili, green onions, lemon juice and half the parsley.
Place the pan on the middle rack and bake for 6 minutes. Remove from the oven and preheat the grill. Sprinkle the juice over the shrimp. Place on the top rack under the broiler for 3 minutes.
Sprinkle with the remaining parsley and lemon wedges and serve hot. Peel the shrimp as you eat them and have plenty of napkins nearby.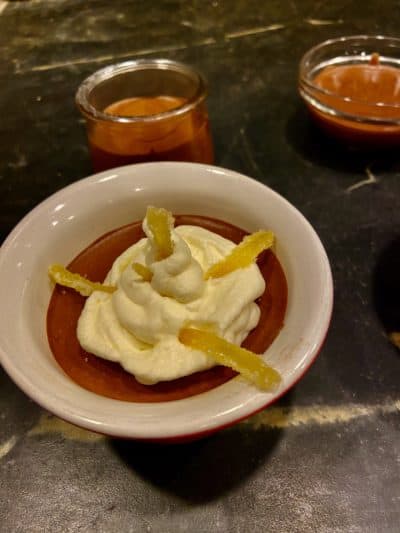 Chocolate Mousse With Vanilla Chantilly And Candied Ginger
This streamlined version of a French classic only requires four ingredients: chocolate, milk, heavy cream, and vanilla extract. You can add other flavors if you like – think grated tangerine zest, a teaspoon of almond liqueur, ground ginger and cinnamon, and more. But keeping it simple is sometimes the best way to go.
If you're only cooking for two, it's pretty easy to split this recipe in half. Garnish the mousse with whipped cream flavored with vanilla and thin strips of candied ginger or citrus, if desired.
For 6.
Ingredients
For the chocolate mousse
6 ounces semi-sweet chocolate (about 55%), chopped
4 ounces of milk chocolate, chopped
1/2 cup of milk
1 cup heavy whipping cream
1/2 teaspoon vanilla extract
For the whipped cream filling
About ½ cup heavy whipping cream
2 tablespoons of sugar
1/4 teaspoon vanilla extract
3 pieces of candied ginger or orange, cut into thin strips (optional)
Instructions
In a medium saucepan, combine the two types of chocolate and place over very low heat, stirring with a gentle spatula until almost completely melted. Remove from heat and stir until chocolate is smooth and completely melted.
Meanwhile, in a small saucepan, heat the milk over medium-low heat until it comes to a boil.
Using a mixer, whip the cream until soft peaks form; stir in the vanilla.
Whisk hot milk into melted chocolate until smooth. Let cool for 5 minutes. Using a spatula, slowly fold the chocolate mixture into the whipped cream until well combined. Divide the mousse among 6 ramekins or small individual bowls, cover and refrigerate at least 2 hours before serving.
Whip the cream: Using a mixer, whip the cream until soft peaks form. Add the sugar and vanilla and whisk for a few more seconds.
Garnish each bowl of mousse with a generous dollop of whipped cream. Add a few pieces of candied ginger or citrus around the mousse, if desired.
Other favorites