That day in 1983: U2 released "New Year's Day"
---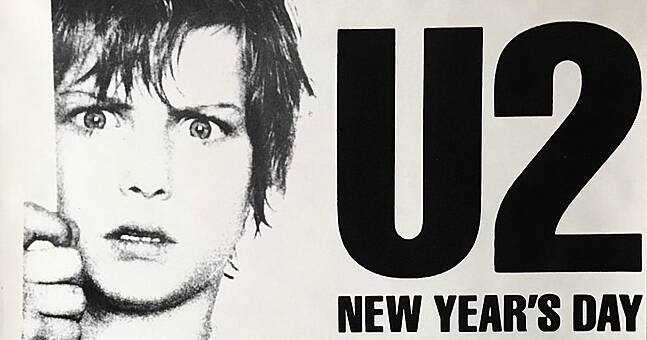 39 years ago today, U2 released 'New Year's Day' – the first single from their third studio album, War. To mark the occasion, we're revisiting Niall Stokes' ideas on the story behind the iconic song …
With the emergence of the Solidarity movement, from 1980, the communist regime in Poland was effectively challenged for the first time since the erection of the Iron Curtain. Following a series of strikes, martial law was imposed in December 1981 by the leader of the Polish Communist Party, General Jaruzelski. Solidarity became a banned organization and its leaders were arrested, including Lech Walesa.
"Subconsciously, I must have thought about Lech Walesa's internment and his wife's ban from seeing him," Bono commented. "Then when we recorded the song, they announced that martial law would be lifted in Poland on New Year's Day. Unbelievable."
Adam had found the bass number during a soundcheck. The Edge developed the piece on the piano. Now the band had five, maybe six tracks in the recording War and Bono still hadn't written down the words. "It was a volatile time," Adam recalls later. "You looked around and there was conflict everywhere. We have seen a lot of unrest on television and in the media. We focused on those.
Turning those themes into song was another story.
"It would be foolish to start drawing battle lines, but the fact that 'New Years' is in the Top 20 has indicated disillusionment among record buyers with pop culture in the charts," said Bono. "I don't think 'New Year's Day' was a pop single, certainly not in the way Mickie Most would define a pop single, like something that could last three minutes and three weeks on the charts. I don't think we could have written that kind of song.
What they wrote followed the basic graphics model in at least one way. It's a love song, no doubt written by Bono with his new wife, Ali, in mind. But the impressionistic political backdrop infused the song with a sense of separation and nostalgia that captured the vibe of the era in an unexpected and haunting way.
Explore the vast Hot press U2 collection here.