Tommy Horton's 1971 New Year's Dollar
---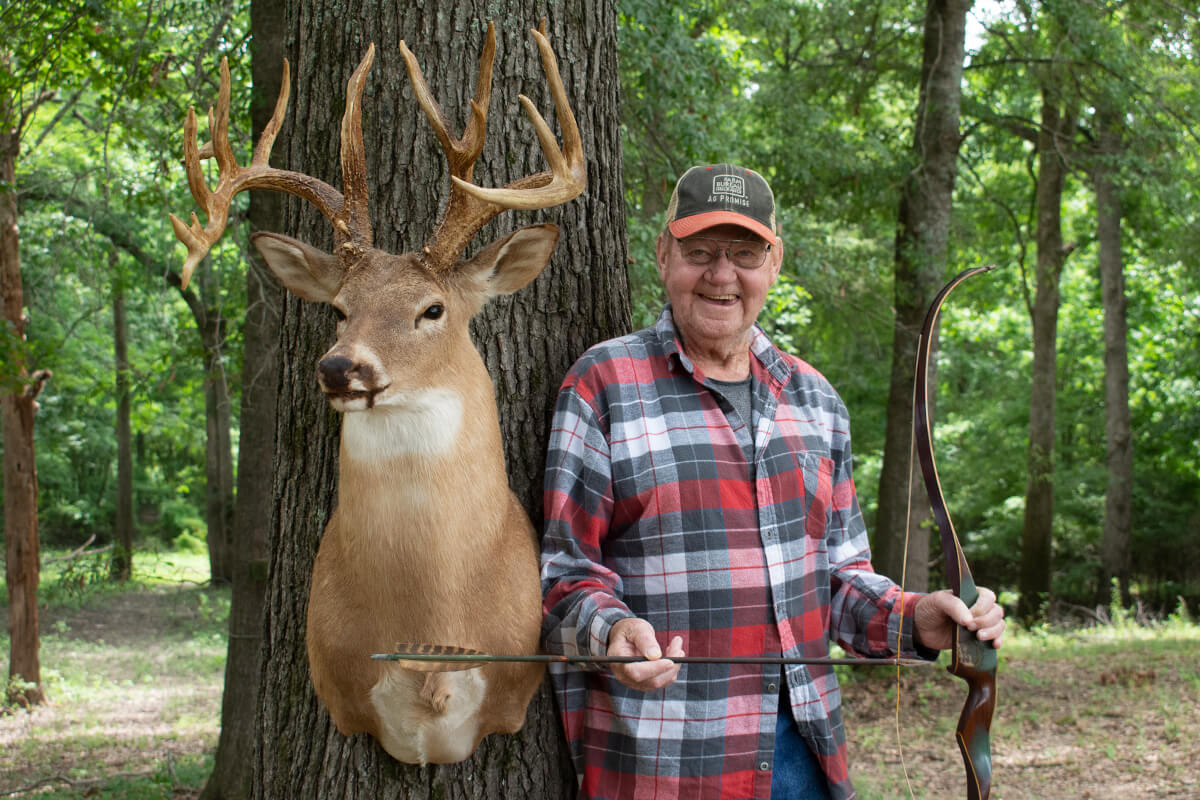 January 27, 2022
By Alli Armstrong Vaughan
Tommy Horton is a bowhunting legend when it comes to whitetail deer hunting in Arkansas. Not only did he make a name for himself, but he also did his part to pass the hunting legacy on to generations to come. Her greatest joy comes from taking her friends and family on a hunt and seeing their success. I had the pleasure of interviewing Tommy about a deer he killed 50 years ago. This atypical buck brought in over 200 inches, and he shot it with a bow, a classic no less. I know I was wide-eyed as Tommy explained this hunt to me, and I imagined deer hunting in the "good old days". I think you will be too.
Tommy started bowhunting with a semi-bow when he was 15 years old. He explained: "We have a hunting camp here called Horton's Landing. My dad would let people camp there and charge them a dollar for how long they wanted to stay. One day after everyone got back to home, he went over there and found one leaning against a tree. It was a wooden semi-bow. He brought it home with the arrows that came with it. None of the arrows he didn't find a match. Of course, they were cedar arrows back then. Dad gave it to me, and it was the first bow I ever hunted with."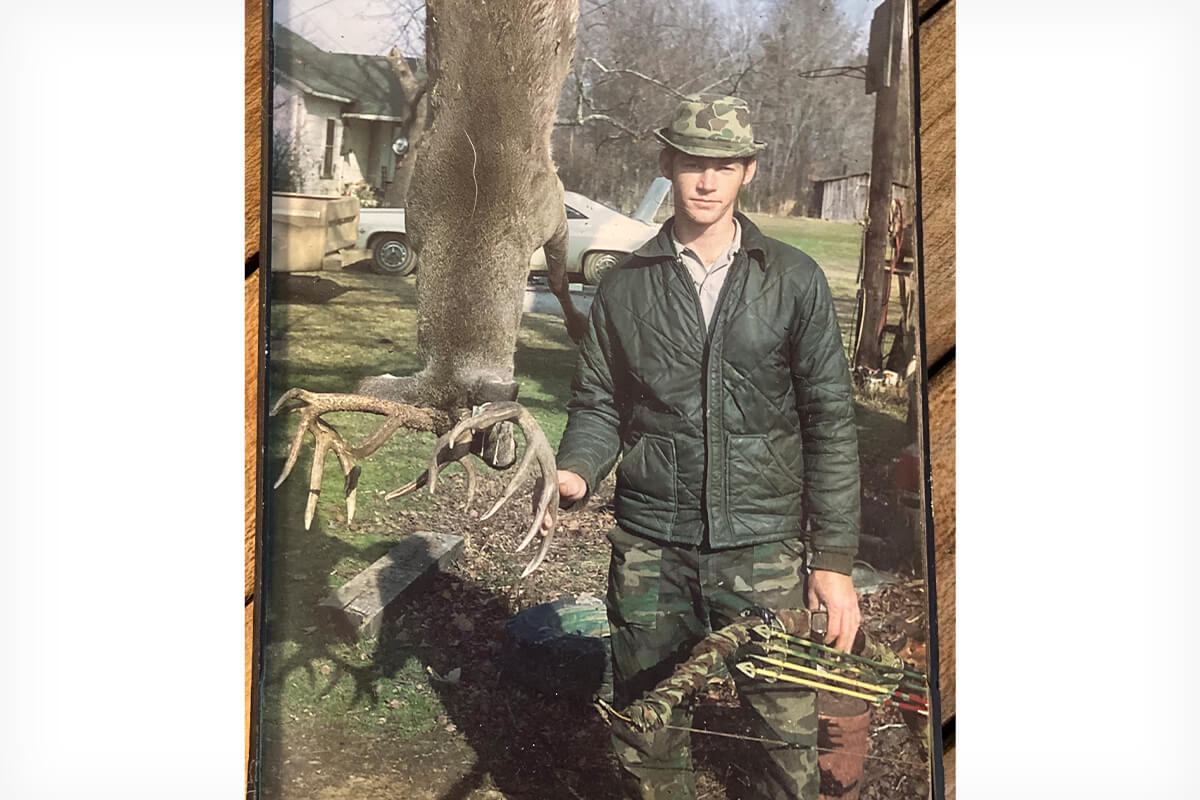 When Tommy was growing up, there were no bow hunters in his family. He had five brothers and he was the only bow hunter. Tommy recalls: "I remember when I shot my first deer with a bow. It was only a one year old deer, but I was proud of it! Back then very few people hunted archery in that area. My mom was talking to her sister on the phone the day I killed that yearling. She said, 'Well, I've got a boy who's done something that none of my other boys never did. He killed a deer with a bow!" I think she was as proud as me."
As Tommy's passion for bowhunting has grown, it has not gone unnoticed. It didn't take him long to upgrade his newly found bow either. He decided he was going to buy a new one. In the meantime, he ends up befriending a guy who was camping at Horton's Landing. Tommy had let it be known that he intended to purchase a bow. The friend told Tommy's brother not to let him buy a bow because instead he would send him one for Christmas. Tommy said, "He sent me this Browning Safari I Recurve, and boy, I thought it was the most beautiful thing I had ever seen."
Fast forward to New Years Day in 1971. All Tommy wanted to do was watch the football game on TV. Two of his friends came over and wanted to go bow hunting. He told them to go ahead because he wanted to watch the football game. They wanted him to go too, so they finally persuaded him to get ready. Shortly after, they left and headed for the woods. The boys separated and Tommy climbed a tree he had been to many times before. It was a broken Sweetgum tree. He climbed it and stood on top of the tree. The river was rising and the bottoms were pretty much all flooded. The deer were really out that night. He saw several, including smaller males, before seeing this male of a lifetime.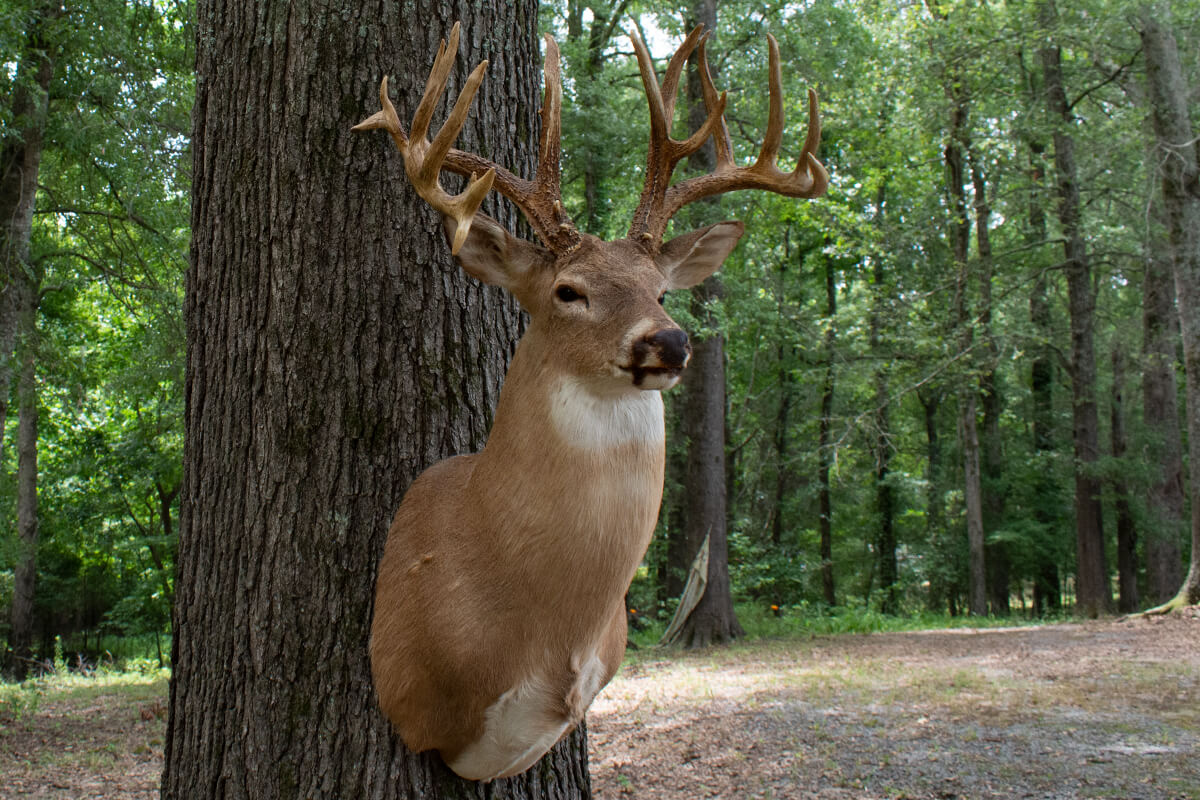 Tommy said with a laugh: "When I saw him, he came down the trail straight towards me and came within about 15 yards. Meanwhile, I was counting the dots on him because I thought, at least I can tell them how badly I missed one.. Of course I missed it! After shooting, it just ran over a ridge in the thicket, and that gave me time to get a another arrow and get it nocked. He came back from that ridge down; I had to bend down to shoot under a few limbs. At this point he was about 35 yards away. I got lucky and I hit that time. I put the arrow in his lungs. He ran about 125 yards from where I shot him. I shot him with this Browning Recurve, which was about near the top of the line at the time. I was using a fiberglass arrow, a Microflite No. 9. We weren't up to aluminum at the time, or I wasn't. not at all. "
This buck's final score was 182 7/8 and, at the time, was the non-typical Arkansas archery state record. He maintained this position for more than 20 years. He was killed in Arkansas County near White River National Wildlife Refuge. The non-typical had 17 scoring points and weighed in at 265 pounds. Some of the footage was lost along the way, but Tommy still has the mount. The male was featured in the book MONSTER WHITETAILS of Arkansas, which was published in 1994. The book publisher would pick up the mount and bring it to Little Rock, where they had the Arkansas Big Buck Classic to display. . Tommy's favorite part about the buck is his unusually large eye shield with three dots.
In awe of Tommy's story, I couldn't help but wonder if he had ever seen this huge male. Tommy shared that he had never seen it before the day he shot it. Although his brother claimed he had seen the deer within the previous year. Tommy had hunted the area a lot in those days, and he already knew it well. It was his favorite place on New Year's Day. He was 23 when he killed it and had been bow hunting in this area for about 7 years. He used to go with his dad running traplines. While his father ran the traplines, Tommy was often caught looking for deer tracks. Despite this, he learned a lot about trapping from his father, a renowned trapper. He taught her a lot about this region and the animals that inhabit it.
A friend of Tommy's called him the next day after he fired the ball and asked him what he would be doing that day. He said, "Well, I'm thinking of going to DeWitt and getting my picture in the paper with the money that I killed." The friend was very excited for him and asked what the price was. Once Tommy told him it was a big one, he told him to hang on because he would be there. Tommy said: "He had a 1965 Chevy SuperSport, and he was really particular about it. I was just going to put it in my dad's truck when I took it to the local paper here. He said, "No, put it in that car," so we put it in the car. When we got to the printer, he put that dollar on the trunk of the car, and it's the picture in the MONSTER WHITETAILS of Arkansas book. He was particular with that car, but it was nice to put that deer up there."
---
---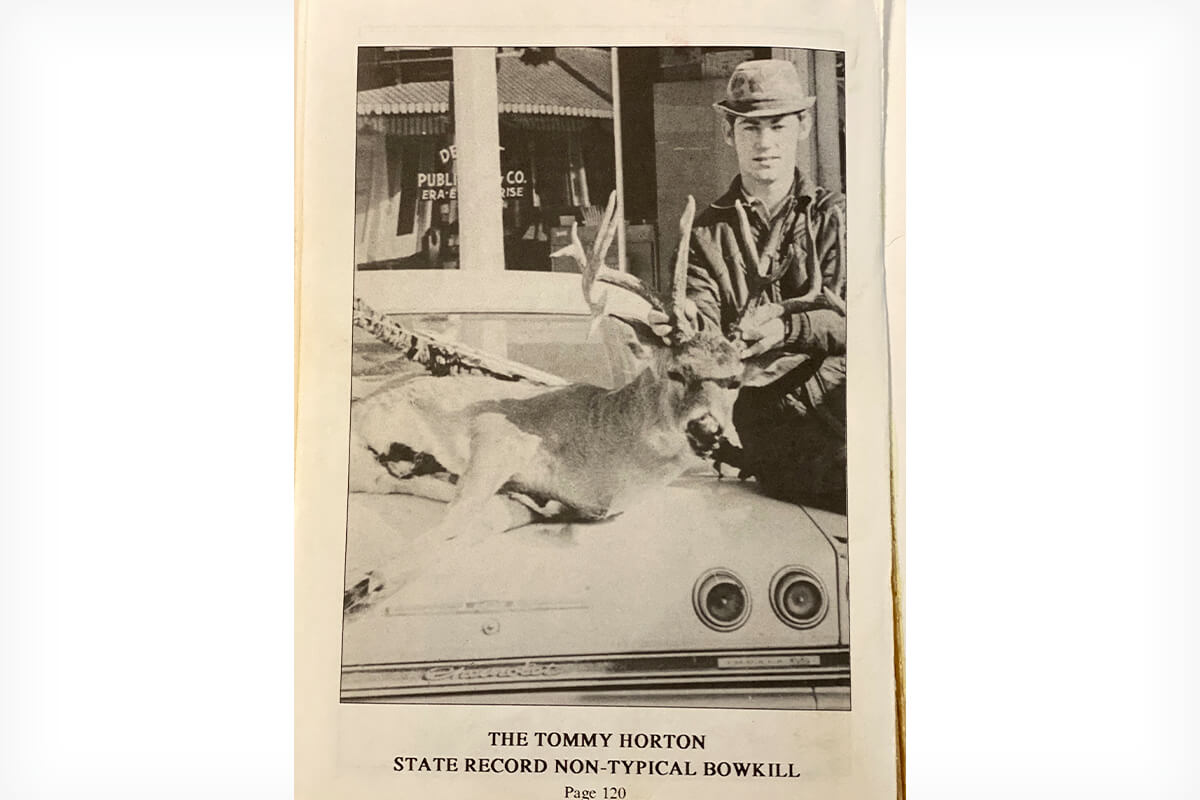 This male wasn't actually measured until a year later, in 1972. A man from Stuttgart took the measurement and told Tommy that it was probably a state record! A few more years had passed before Tommy realized that the score had never been returned to the Pope and Young Club for some reason. He was able to measure the dollar again in Little Rock, and then the score was made official. Tommy even earned a certificate from the Pope and Young Club. It was finally made official about 4 years after he killed it, so it was the state record from that point on for over 20 years.
It was the 6th deer that Tommy had killed. Previously, in October 1970, Tommy shot an 8-pointer, which was the first buck he had ever killed. He has hunted and taken many deer since then. The 17 points is the biggest dollar he has ever earned. However, he took a few other notable bucks, including two 15-point bucks scoring about 150 inches each and a 10-point with a 22.5-inch spread. He scored around 162 inches.
Tommy told me he loves everything about whitetail deer hunting. He doesn't hunt as much anymore because of his health. However, he likes to look at his house and observe the deer that are there. He always keeps an eye on them through the window, where he sees a lot of wild animals. In addition to deer, he saw turkeys, bears, coyotes and wild pigs. He had two 8-pointers out where he could see them every day last year from about 150 yards out. He enjoys watching them and admits he doesn't mind not pulling the trigger anymore. Although he says he would really like to be there. Tommy was even able to do quite a bit of video once he had a camcorder. He shared that he filmed several very handsome dollars from his window.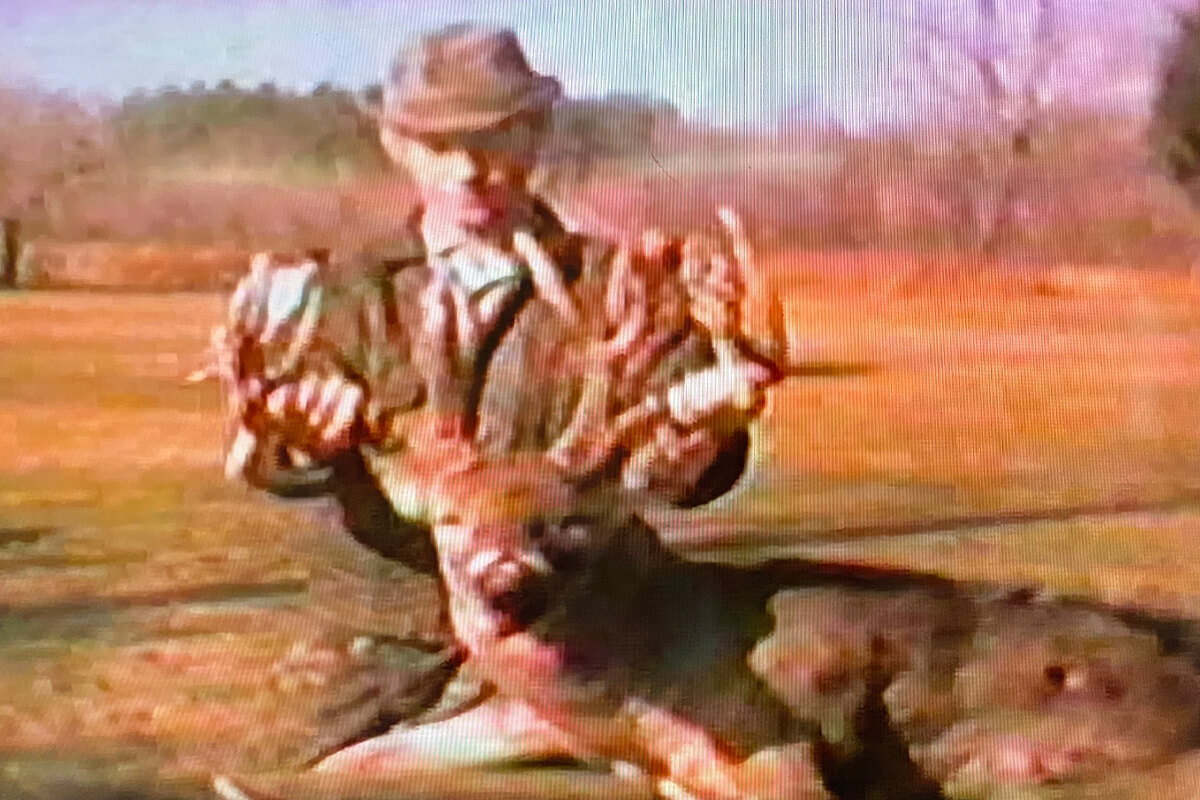 Talking with Tommy, he reminded me a lot of my Papaw. I am so grateful that people of my Papaw and Tommy generation have chosen to pass on what they have learned. They shared their passion for the outdoors, for conservation, and for providing food for their families. I hope I can be as good a steward and mentor so that my children and grandchildren can enjoy the same things I was raised with. Plus, I can't express how truly remarkable it is that he got that caliber of deer, especially with a classic. Tommy shared it with me and, in my opinion, it's one of his most significant accomplishments. "I now have grandchildren staying with me, and they have killed some beautiful deer. I love it when I hear one of them shooting. It makes me feel good that someone else can have one. Lots of people get jealous and I don't want anyone else killing anything but it tickles me when someone kills a good deer; I'm proud of them and for them. "