Tonight is evening! It's time for a New Year's Eve celebration!
---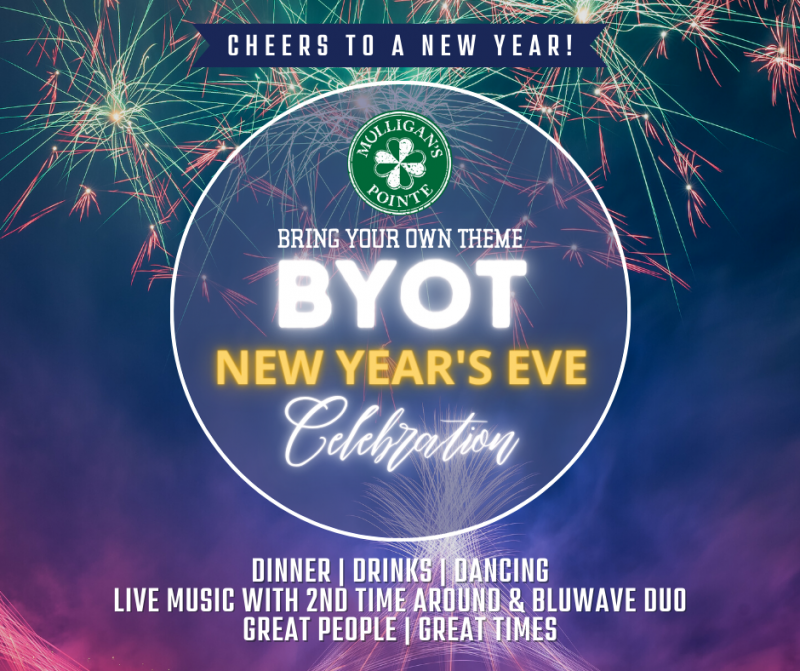 SAY HELLO TO A BYOT NEW YEAR'S PARTY!
Fewer rules, more fun!
BYOT NEW YEAR EVENING! Yes, it's true it's a "BYOT = Bring your own theme" and get ready to dance and dine at the best party of the year! Boots to Ballgowns, Denim to Diamonds, Sinners to Saints, Blast from the Past, Fashion Flashbacks and everything in between, it's a do it yourself event, bring your own theme or no theme at all! Tickets and clothing required, evening pants and dancing shoes recommended.
The Mulligans team theme is Hospitality Heroes and we'll be showcasing our best dance shoes and giving our last top service performance of 2021. The Hospitality Heroes will also present NYE's first MP Awards including Best in Show Team Theme, Best in Show Solo Theme, Overall Best In Show Theme, Most Creative, Best Effort, Staff Choice and more!
So do your own thing and join us for New Years Eve
TICKETS include a variety of flavors for all taste buds with homemade apps, snacks, assorted entrees, fresh sides and homemade desserts more
Click here for tickets!
Entertainment from 7 p.m. to midnight
by local favorites and good friends Tony & Lisa with the Blue Wave Duo and the one and only band for the second time! For a dance party to good tunes and good times!
---
Click here for tickets!
Event tickets $50 per person and include: Apps, Dinner and Dessert Buffet, Dance Party and Entertainment, Contests and Prizes, Party Favors, Midnight Champagne Toast and Late Night After Party Buffet!
Non-alcoholic drinks are included. Beer, wine and cocktails sold separately. Guests will automatically be assigned seats upon purchase.
Guests wishing to be seated together must purchase tickets together. Non-alcoholic drinks are included. Beer, wine and cocktails sold separately. Cash and credit card full service bar with beer, wine and cocktail promotions all night long! Must be over 21 with valid ID.
For more information and tickets, visit us online!
---
MULLIGAN'S POINTE, 22426 SUSSEX PINES ROAD, GEORGETOWN, DE, 19947
Call: 302-856-6283 or Email: [email protected]